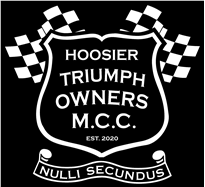 Details about the Hoosier TOMCC branch
Colours: Back and White
Contact: Bruce Markel, Secretary
Email the Branch:
Information
Officially recognized as a branch on August 1, 2020, the Hoosier Branch is located in the Indianapolis, Indiana, USA area. We were formed to bring together the Triumph owners in central Indiana. With thirty members to start, we hope to add many more of the estimated hundreds of owners in the area who do not know each other.
Those of us who have joined have found a great common thread through the love for these bikes, both old and new.
We are also proud to be hosting the 75th Anniversary of TOMCC Trifest in Indianapolis September 20th-22nd 2024.
Want a Trifest 2024 tee shirt? Order here:
https://hoosier-branch-tomcc.creator-spring.com/
We meet to enjoy fellowship with other Triumph owners and ride.
We are riders, looking for any excuse to mount up and go.
Location
Triumph Indianapolis, 125 N College Ave, Indianapolis, IN 46202, USA - Meets: Third Saturday of each month at 11:00 AM
Committee
Chairman

Craig Jones

Current ride is a 2005 Triumph Daytona 650

---

Secretary

Bruce Markel

Current ride is a 2018 Bonne T120

---

---