Monthly Magazine of the Triumph Owners' Motor Cycle Club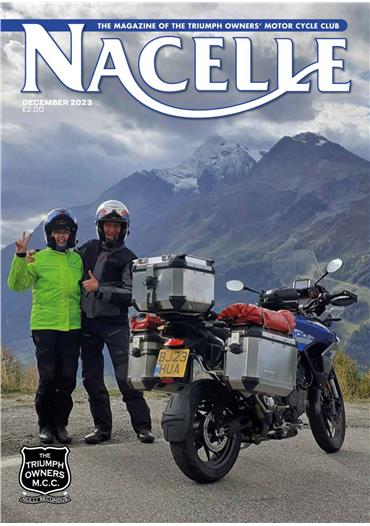 Nacelle is an A4 format magazine of 48 printed pages, that appears on your doorstep towards the end of each month. It is sent out to all Full, Past, and Honorary Members of the Club and also to all those who have taken out a Magazine Subscription. Full members of the Club can read back-issues of Nacelle online if they sign in to the website.
Featuring regularly in the magazine are such articles as road tests on both modern and classic Triumphs, technical features on various aspects of motorcycles and motorcycling, members' letters, news from the Branches, and contact information. If rallies, shows, and runs out are more your thing, there are details of the many up and coming events around the country (and also Europe and further afield). There is also a section for members to advertise parts and bikes for sale, or which are wanted. This is not to mention the regular advertisers of Triumph motorcycles, parts, and accessories.
So, if you want to find out more about your bike, ask for help with a technical problem, offer us the benefit of your wisdom, write about your experiences, or just get in touch with other Triumph enthusiasts around the country (and the world) then simply write a letter to the Editor.
Don't forget that if you can't join the Club as a full member (i.e. you don't have a Triumph), then you can still take out a Magazine Subscription - and maybe find a Triumph from the adverts.
Note: The Nacelle mailing list is generated at the start of the month for the magazine that comes out at the end of the month, so if you join halfway through the month, you won't get your first copy of Nacelle until the end of the following month. This is also true for changes of address.
If you wish to advertise in Nacelle, then please contact the Editor via the Contact Form. Small Ads are available free of charge to Members only, however if you're a non-Member with a machine or item that would be of special interest to the Club the Editor may include it in the Small Ads.
Sign In to read Nacelle online.
Editions:

Sign In to read earlier editions of Nacelle online.