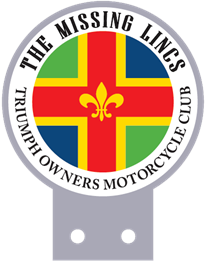 Details about the Lincolnshire branch
Email the Branch:
Information
The Missing Lincs Members bikes are mainly Modern Hinckley but several members have the old Meridian classic bikes which do run just as well when looked after.
We meet every 2nd Saturday of the month at
Wickenby Aerodrome Langworth LN35AX
WE ARE ON FACEBOOK
LINCOLNSHIRE BRANCH OF TRIUMPH OWNERS MOTORCYCLE CLUB

Ride outs every month if possible.
Charity Rides to raise money.
Attend And Display our bikes at Motorcycle Events.
And visit events of interest to Members.
Events
We meet every 2nd Saturday of the month so if you live in the Lincoln or Boston area please come and visit us and see our great venue and chat to our members and see what we do as a club.
2023
July
New HQ
Wickenby Aerodrome is our new HQ for our monthly meeting which is the 2nd Saturday every month starting at 10am. It's a great venue to meet up, so if you are in the Boston and Lincoln area please come along to our Saturday meeting and see for yourself.
Committee
Contact us on Facebook
Lincolnshire Branch of Triumph Owners Motorcycle Club
---

---

Ride Out Co-ordinator

Mick Gerrard

---

---

---