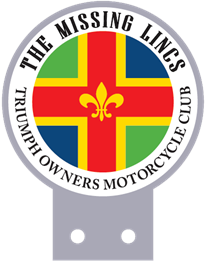 Details about the Lincolnshire branch
Email the Branch:
Information
We meet every second Friday of the month from March through to
October.
Janet's Tea Room
18 Station Rd Woodhall Spa LN10 6QL
WE ARE ON FACEBOOK
LINCOLNSHIRE BRANCH OF TRIUMPH OWNERS MOTORCYCLE CLUB

Ride outs every month if possible.
Charity Rides to raise money.
Attend And Display our bikes at Motorcycle Events.
And visit events of interest to Members.
Location
Janet's Tea Room. 18 Station Rd Woodhall Spa LN10 6QL - Meets: On the 2nd Friday of the month at 18.30 hours
Committee
Contact use on Facebook
Lincolnshire Branch of Triumph Owners Motorcycle Club
---

Ride Out Co-ordinator

Mick Gerrard

---

---

---