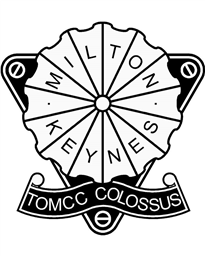 Details about the Milton Keynes branch
Colours: Black & White
Contact: Richard Bryce - Pure Triumph Woburn, George Street, Woburn, MK17 9PY
Email the Branch:
Information
Founded in February 2019 MK Colossus had just three years later become the largest branch worldwide with more than 300 members. Members hail from all across the North Home Counties and further afield.

We meet first Monday each month at The Station Tavern in Woburn Sands (next to the level crossing). Feel free to pop along and check us out.

There are ride outs most dry weekends and often during weekdays. We organise trips and tours. Our Facebook (tomccmk) and WhatsApp groups are a popular way of maintaining social contact and for organising ad hoc meets and ride outs.

Our chairman, Rich Bryce, works at Pure Triumph Woburn and would be delighted to tell you more about the Colossus.

Branch members enjoy discounts at Pure Triumph Woburn on servicing and on Triumph branded parts, accessories, clothing and merchandise.
Fortnightly evening meet ups at local pubs.
Ride outs most dry weekends and often midweek.
Charity rides.
Organisers of the Milton Keynes Distinguished Gentleman's Ride.
Organisers of the annual ABF Soldiers Charity ride at Hinckley.
Safety courses.
Trips and tours.
Committee
Rich Bryce - Chair - works at Pure Triumph Woburn
Lawrence Ennis - Secretary
Sam Hitchcock - Treasurer
Jacqui Sage-Passant - Events
Pete Sage-Passant - Communications
Simon Bullough - Safety
Nick Gidman - IT Adviser
Branch Committee

Branch Committee

Milton Keynes 'Colossus' keeps active thanks to the voluntary work of the Branch Committee. All are riders and are dedicated to giving your membership of TOMCC real value and enjoyment. They would be delighted to see you at a Club Night, at Stop 'N Stuff in Woburn (especially on sunny Saturdays) or on a ride out.

---

Branch Secretary

Lawrence Ennis

I've been riding motorcycles (legally) since 1979. I've had several makes / models over the years, but my first Triumph was a 1965 Tiger 90 which I bought in 1982. It was in several boxes when I acquired it and I rebuilt it over the course of 2 years with a little help from my brother. I currently ride a 2019 Speed Twin which thankfully means my toolbox is rarely opened!

---

Chairman

Richard Bryce

Bike riding, ale swilling, jive dancing, Manchester United fan. First ride on a bike was in '58 pillion on my uncle's brand new Norton Dominator 99 doing the ton (he said) down Rockingham Hill (with a strong tail wind). I always wanted a Dommie and a record-breaking Bonnie. Got my first Bonnie in 2015. Never did get the Dommie. Enjoy the ride and keep safe, Rich.

---

Events

Jacqui Sage-Passant

The jump from a Jap bike to a Triumph was an easy choice for me . I loved the style,attention to detail and the ability to support a British company. A large part of my career was spent organising events. I enjoy doing this for the Triumph group and have made some great new friends in the club.

---

---

Publicity

Peter Sage-Passant

My first experience with a Triumph was a failed attempt to rebuild a truly knackered Tiger Cub in The mid 70s. My second experience was buying a Street Triple R a couple of years ago, and realising how good Triumphs are these days. I'm now a proud Tiger owner, and really enjoy the TOMCC meetings and ride-outs. Because life can't all be fun, I'm also a Luton Town season ticket holder.

---

Safety Rep

Simon Bullough

---

Treasurer

Samuel Hitchcock

Rides a Street Twin.

---