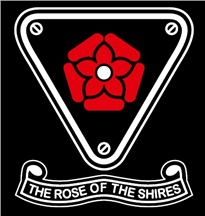 Details about the Northants branch
Colours: Red Rose on Black background
Email the Branch:
Information
Northants Branch - The Rose of the Shires
Two club nights per month throughout the year at Hardingstone; with occasional 5th Wednesday meetings at Newton Bromswold. Lots of ride-outs, and occasional displays at transport shows. Organisation of Triumph Day at Pure Triumph, Wellingborough.
Location
The Crown, High Street, Hardingstone, Northampton, NN4 6BZ - Meets: 1st & 3rd Wednesdays of the month at 7.30pm
Events
email- northantstomccmembership@btinternet.com for more details.
2023
March
Northants Branch AGM
Annual General Meeting for the Northants Branch, at The Crown, Hardingstone, Northampton. Starts 7.30pm
June
Northants Branch "Triumph Day"
The annual Northants Triumph Day at Pure Triumph, The Embankment, Wellingborough, NN8 1LD. 10am to 3pm. Ride in, have a look at all the Triumphs, chat about Triumphs, enjoy a cuppa and a snack, chat some more about Triumphs.
Committee
Chairman - Steve Rattley
Secretary - Les Barras
Treasurer - Robert (Bob) Swann
---

---

Treasurer

Robert (Bob) Swann

---