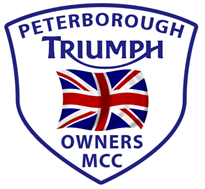 Details about the Peterborough branch
Email the Branch:
Events
2023
June
Garage Party at Mick's Barratt's place
Come along for a chat and some drinks and nibbles. There should be something in bits to look at and get your hands dirty. If the bikes get boring then there is a pool table upstairs and plenty else to do. Ask Mick for the address.
Weekend run to the Sammy Miller Museum
A run down to the Sammy Miller museum. Contact Peter Rich for details of times and the hotel accommodation.
Wheels at the Windmill
This is the second time this event has been run. Last year was a tremendous success with over 200 bikes and scooters attending. The event is at the Denver Windmill, Sluice Road, Downham Market, PE38 0DZ. There will be an entry fee of £1 to help the windmill with their ongoing renovation. Please put this in the bucket at the gate. There is food and drink and a band from 1pm. https://www.facebook.com/events/562174819154407?ref=newsfeed. Location and time of meeting place to be confirmed. Please let Mick Barratt know if you are interested in a run to the event.
August
TOMCC Big Branch Bash
The Branch will be attending South Linc's Big Branch Bash. Advance tickets are required.
Click here for more details
September
Copdock Show
The Branch will again have a display at the fantastic Copdock Show, near Ipswich. If you haven't been then this is the show to attend. It is the nearest we have to the good old BMF Rally, with loads of bikes on display and a huge autojumble. Please contact Phil O'Riordan for detaails.
Click here for more details
Peterborough Branch Motorcycle Show
This is the return of our annual bike show, now at our new HQ The Bull Pub at Newborough. More information to come.
Click here for more details