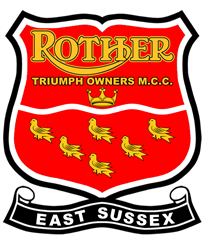 Details about the Rother branch
Colours: Black-Yellow
Contact: Richie Blackwell - Secretary - 20 Pevensey Park Road, Westham, East Sussex, BN245HW
Email the Branch:
Information
Welcome to the Rother Branch Website Black & Yellow
Official website - www.rother-tomcc.co.uk
Events
2023
April
Quarterly meeting
Quarterly meeting get together at The Robin Hood to discuss up and coming events, ride outs and plans for the club. 8pm start. It's a time where you can have your say as a club member.
Ride Out to Lydd
From: Hastings
Click here for more details
May
British and Classic Bike Night
British and Classic Bike Night at The Robin Hood, Icklsham. 6:30pm start. No trophies, no entry fee, no fuss, just an old fashioned meet-up of British and Classic Motorcycles.BBQ, Tea & coffee, real ales pub garden and ample parking, All welcome. The Robin Hood, Icklesham, East Sussex A259 between Hastings and Rye. This years charity- Service by Emergency Rider Volunteers (SERV)
Click here for more details
Ride Out to The Six Bells in Chiddingly
From: Hastings
Click here for more details
June
Ride Out to The Plough at Lower Beeding
From: Hastings
Click here for more details
July
Ride Out to The Drum, Stanford
From: Texaco garage on A21 next to Sainsbury, Hastings
Click here for more details
Ride Out to The Swan, Little Chard
From: Texaco garage on A21 next to Sainsbury's
Click here for more details
August
British and Classic Bike Night
British and Classic Bike Night at The Robin Hood, Icklsham. 6:30pm start. No trophies, no entry fee, no fuss, just an old fashioned meet-up of British and Classic Motorcycles.BBQ, Tea & coffee, real ales pub garden and ample parking, All welcome. The Robin Hood, Icklesham, East Sussex A259 between Hastings and Rye. This years charity- Service by Emergency Rider Volunteers (SERV)
Click here for more details
Committee
---

Secretary

Richie Blackwell

---

---

Vice Chairman & Nacelle scribe

Colin Page Mitchell

---

---