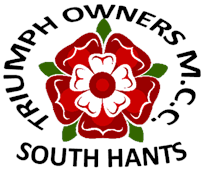 Details about the South Hants branch
Colours: Black-Silver
Contact: Tracy Piper - Phone: 02380271320
Email the Branch:
Events
All ride-outs meet at the Hunter's Inn by 7:30pm.
2023
April
New meeting locarion
Latest in the ongoing saga to find a new meeting location. After visiting The Bold Forester, Soberton last week, and finding it unsuitable for our needs, we moved on to the George and Falcon, Warnford to assess it's suitability. We were very encouraged with what we saw, and were made very welcome by the staff. As a result, as from Friday 28th April we will relocate to this location for the foreseeable future. Please come along and see us!
September
South Hants AGM
AGM at the George and Falcon at Warnford 7pm for 7.30pm start
December
South Hants Xmas meal
Xmas meal at the Phoenix pub, Twyford. Details to follow...