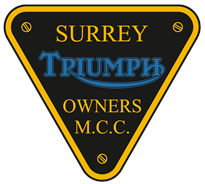 Details about the Surrey branch
Email the Branch:
Information
We aim to be friendly, open and approachable so members feel an integral part of the branch. The Branch always welcomes new ideas and input from all members.
All sorts of events are organised from Thursday evening runs, barbecues, Sunday runs, shows, going to rallies, weekends away, trips abroad and more! We want all members to have an enjoyable time so we believe it must be fun and have a laugh.
We welcome all new members, just turn up and you will be welcome. Meets are every Thursday evening from about 8pm, rain or shine (bike or car).
Committee
Please only contact committee members about Branch events or Membership problems. If you want to talk Triumphs, they will be willing to listen to you on a Branch night. Email the branch on surrey@tomcc.org .
---

Runs Coordinator

Debbie Ansell

---

---

---