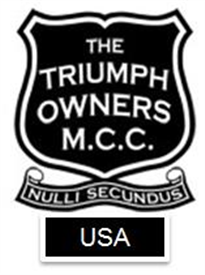 Details about the TOMCC USA branch
Colours: Red, white, and blue.
Email the Branch:
Information
The Triumph Owners' Motor Cycle Club of The United States of America (TOMCC USA) was the first US based branch of the historic TOMCC. Currently based in Huntsville, Alabama we are developing new branches where enough members gather. Our goal is to reach out to where ever Triumph riders are and provide them the opportunity to be a part of this august organization.
Committee
Chairman

Sean Naylor

Huntsville, Alabama - 2010 Speed Triple - 2015 Rocket X

---

---

---