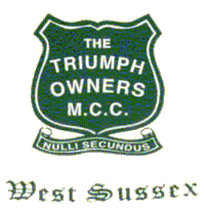 Details about the West Sussex branch
Colours: GREEN
Email the Branch:
Information
Welcome to the West Sussex Web Site
Visit Our West Sussex Branch Web Site At ...
http://www.westsussextomcc.org
Location
The Plough Inn, Leechpond Hill, Lower Beeding, Horsham, West Sussex, RH13 6LT - Meets: Wednesdays 20:00 - 22:30
Events
2023
August
West Sussex TOMCC Custom & Classic Show
at the Plough, Lower Beeding, Horsham, RH13 6LT 12 o'clock onwards. Usual thing, band, barbecue, bar, prizes. Please note, no camping this year.
Committee
---

Events Co-ordinator

Robin Storey

---

---

Regalia Officer

Ed Bieniaszewski

---

---

---

Show Co-ordinator

Ed Bieniaszewski

---

Treasurer

Stuart McFadyen

---