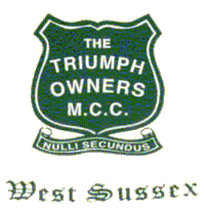 Details about the West Sussex branch
Colours: GREEN
Email the Branch:
Information
Welcome to the West Sussex Web Site
Visit Our West Sussex Branch Web Site At ...
http://www.westsussextomcc.org
Location
The Plough Inn, Leechpond Hill, Lower Beeding, Horsham, West Sussex, RH13 6LT - Meets: Wednesdays 20:00 - 22:30
Events
2023
March
South of England Classic Show
West Sussex branch have a club stand at the above event at Ardingly Showground
Click here for more details
TRIUMPH/MOTORCYCLE THEMED QUIZ AND SPECIALIST INSURANCE Q&A
Emma Airey from RH Specialist Insurance will be at the West Sussex Branch on 29th March with a Triumph/Motorcycle Themed Quiz and a Specialist Insurance Q&A session. Not only that, there's a £100 insurance voucher for the winner. 8PM AT THE PLOUGH, LOWER BEEDING, RH13 6LT.
Committee
---

Events Co-ordinator

Robin Storey

---

---

Regalia Officer

Ed Bieniaszewski

---

---

---

Show Co-ordinator

Ed Bieniaszewski

---

Treasurer

Stuart McFadyen

---