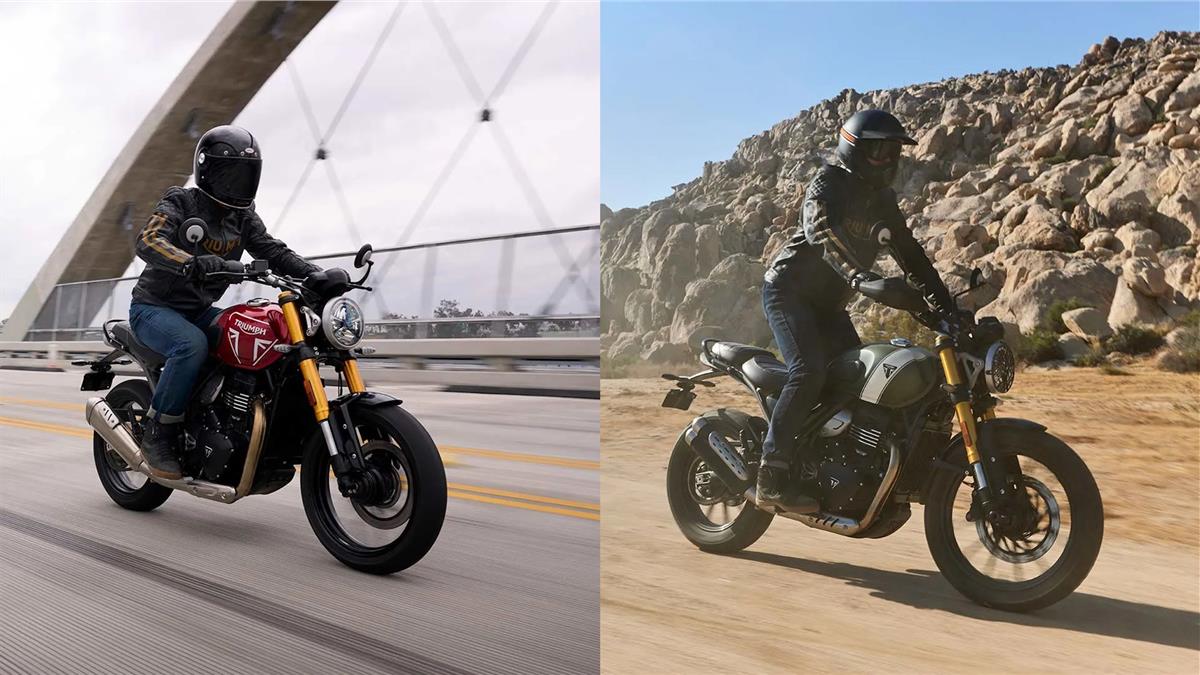 The Speed 400 and Scrambler 400 X are coming to a UK dealer near you! The two newest models to join the Triumph family will be soon taking to the roads of the UK on a full UK preview dealer tour. Contact your local dealer for more information or to book a place. Click to read more including tour dates.
More info follows:
The Speed 400:
Iconic Triumph style, characterful performance and class-leading quality, distilled to create the newest addition to the Speed family.
Scrambler 400 X:
Beautifully balanced, effortlessly agile. The Scrambler 400 X is built for all riders, and all terrains.
Northern UK Tour Dates:
| | | |
| --- | --- | --- |
| FROM | UNTIL | DEALER |
| 6th September | 12th September | Triumph Aberdeen |
| 12th September | 15th September | Edinburgh Triumph |
| 15th September | 19th September | West Coast Triumph Glasgow |
| 19th September | 22nd September | Cumbria Triumph |
| 22nd September | 26th September | Triumph Newcastle |
| 26th September | 29th September | A1 Moto York |
| 29th September | 3rd October | Triumph West Yorkshire |
| 3rd October | 6th October | Youles Motorcycles Blackburn |
| 6th October | 10th October | Youles Motorcycles Manchester |
| 10th October | 13th October | Triumph North Wales |
| 13th October | 17th October | Triumph Chester |
| 17th October | 20th October | Staffordshire Triumph |
| 20th October | 24th October | Team Roberts |
| 24th October | 27th October | Triumph World |
| 27th October | 31st October | Webbs of Lincoln |
| 31st October | 3rd November | Pidcock Triumph |
| 3rd November | 7th November | Triumph Birmingham East |
| 7th November | 10th November | Triumph Birmingham West |
| 10th November | 14th November | Triumph Stratford |
| 18th November | 26th November | Motorcycle Live |
| 28th November | 1st December | Peterborough Triumph |
| 1st December | 5th December | Norfolk Triumph |
| 5th December | 8th December | Suffolk Triumph |
| 8th December | 12th December | Triumph Essex |
Southern UK Tour Dates:
| | | |
| --- | --- | --- |
| FROM | UNTIL | DEALER |
| 6th September | 12th September | Pure Triumph Wellingborough |
| 12th September | 15th September | Pure Triumph Woburn |
| 15th September | 19th September | Triumph North London |
| 19th September | 22nd September | Triumph West London |
| 22nd September | 26th September | Bulldog Triumph |
| 26th September | 29th September | Carl Rosner Motorcycles |
| 29th September | 3rd October | Triumph London |
| 3rd October | 6th October | Triumph East London |
| 6th October | 10th October | Laguna Motorcycles Maidstone |
| 10th October | 13th October | Laguna Motorcycles Ashford |
| 13th October | 17th October | JS Gedge |
| 17th October | 20th October | Destination Triumph Washington |
| 20th October | 24th October | Destination Triumph Solent |
| 24th October | 27th October | Dave Death |
| 27th October | 31st October | Destination Triumph Dorset |
| 31st October | 3rd November | Triumph Swindon |
| 3rd November | 7th November | Triumph Oxford |
| 7th November | 10th November | Triumph Cheltenham |
| 10th November | 14th November | Bevan Triumph |
| 18th November | 26th November | Motorcycle Live |
| 28th November | 1st December | Fowlers Bristol |
| 1st December | 5th December | Total Triumph |
| 5th December | 8th December | Bridge Motorcycles |
| 8th December | 12th December | Triumph Plymounth |