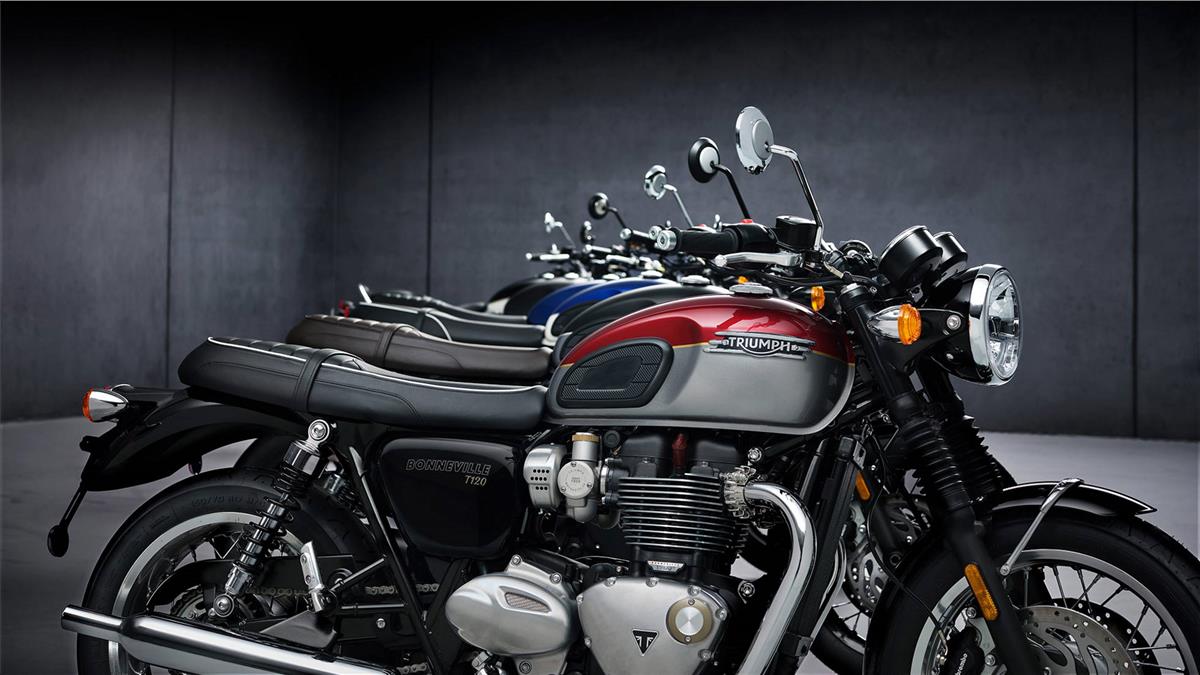 In another Tuesday lunch-time live-reveal by video, Triumph have outlined the details for their 2021 Bonneville range. The first impressions are good - there are performance tweaks, styling tweaks, and technology tweaks but the unique character appears to have been kept. Read on to find out more and what we think.
Matt Roberts fronted the live-reveal video once again - having done so for the Speed Triple - and all the machines were ridden onto the stage by Triumph staff members. The Bonneville models that were featured were the T120, T120 Black, T100, Street Twin, Speedmaster, and Bobber. There was also a special edition Street Twin. There was no mention of the Speed Twin, Thruxton, or Scrambler models - though there will be a reveal in April.
Now the UK may have left the EU, but Triumph still need to be sold there so all the machines are now Euro5 compliant. However that hasn't meant that the bikes have lost power in fact the opposite is true. The other thing all the models have now is an immobiliser which should help lower insurance costs (if only a little). Lastly the other common thing is the 10,000 mile service intervals.
The video featured a number of Triumph staff members and three cameos. We had Major Tim Peake waxing lyrical about the Bonneville (he's a motorcyclist), Kevin Stanley from Moto Chop Shop explained why he likes customising Bonnevilles, and Jodie Millhouse from Thornton Hundred Motorcycles who customised Bobbers (and who customised one for Joe Wicks).
Steve Sargent (Chief Product Officer) explained that the T120 models now benefit from a reduced-mass engine giving less inertia and quicker response. That translates into more power and torque but also gives a 7kg weight saving which should improve the power to weight ratio. New twin-pot Brembo front callipers keep the braking performance up to date. Cruise control is now standard and the riding modes now also alter the traction control as well as the throttle mapping.
The T100 (can be made A2 Licence compliant) also has increased performance with a 4kg weight saving. It also has a new Brembo single calliper.
Stuart Wood (Chief Engineer) explained why the Street Twin (also A2 capable) is the range's best selling model.
Miles Perkins talked about the Speedmaster and how it is more responsive and better handling with 47mm cartridge Showa forks. The seats have been improved and the rear one can be removed to give a cleaner look when riding alone.
The Bobber has had more changes than the Speedmaster with a larger 12 litre fuel tank and the same reduction of inertia in the engine allowing the motor to spin up faster. It also has the new Brembo twin callipers, new Showa forks, Cruise Control, and LED headlights.
Gary Devine (Paint Shop Lining specialist) rode in the new Street Twin Gold Line limited edition. Only 1,000 of these custom paint scheme Street Twins will be produced. Gary used to work at the Meriden factory and is one of the few people in the world who can do lining work the right way - using a brush not masking tape.
The new range will be in Dealerships from March!
Tuesday is a bit of a random day to release a bike... but when you consider that Motorcycle News comes out on a Wednesday in the UK it becomes a bit more obvious as to why that has been chosen. So what do we think?
Well, what can you say. The classic looks and styling haven't been monkeyed with and the bikes retain their desirability rating. They are now Euro5 compliant and that has been done partly through weight saving - but we don't think you'll really notice it in normal riding conditions. Aside from the engine changes there is Cruise Control on a few models, different suspension on a couple, and better brakes. Not a massive change but then you don't want to mess around with something like the Bonneville - not unless you really want to annoy bikers. They might not be as popular as they were 5 years ago but they still sell a lot and we can't see that changing. No, there isn't anything you can point at and say 'buy it because of this', but in another sense you can just point at the whole machine and say 'buy it because of what it is'. Then join the TOMCC if you are not already a member.