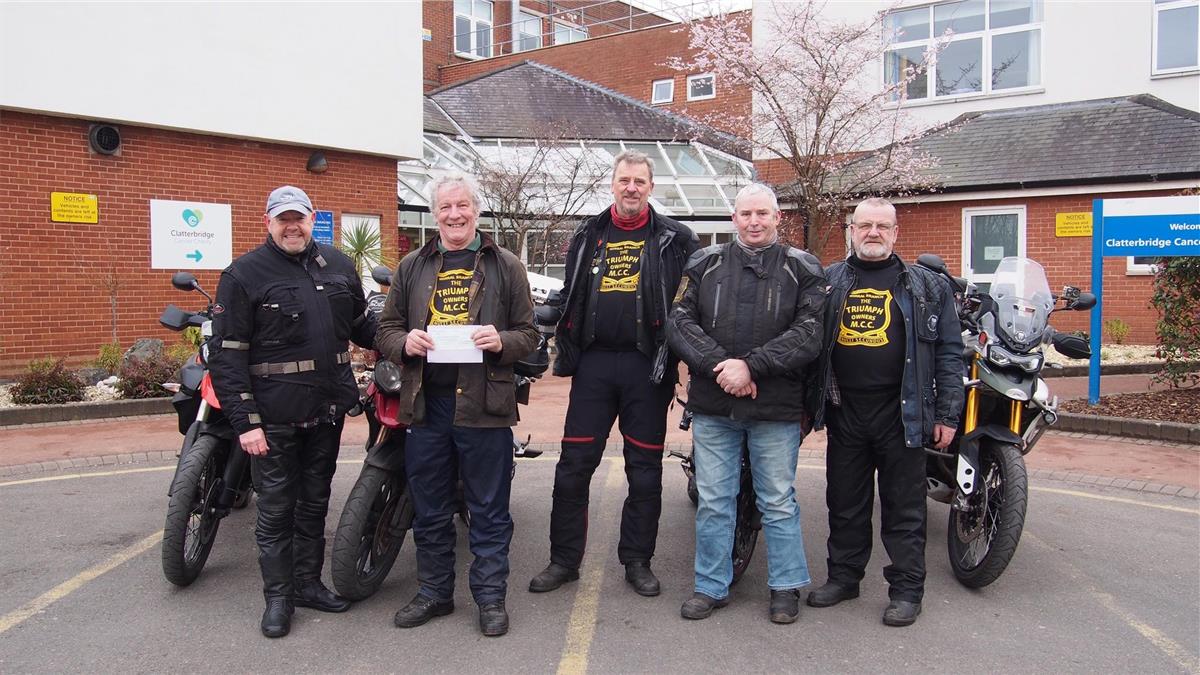 The Clatterbridge Cancer Charity had a lovely visit from Dave, Dave, Carl, Steve and Peter from the Wirral Triumph Owners Motor Cycle Club. They've been fundraising for Clatterbridge for almost two years now, and have now raised over £1000 in memory of Jackie Clough.
Clatterbridge Cancer Charity is the only dedicated charity for The Clatterbridge Cancer Centre. The Clatterbridge Cancer Centre is one of the UK's leading cancer centres. They bring together expert staff, high-quality care and excellence in research to drive forward the development of new leading edge drugs and therapies, and provide outstanding specialist care for patients. They can't do this without the support of the public in the form of donations so please make a donation to help them combat this dreadful disease.
Club Chairman, Dave Pearson said: "Jackie and I got together in 2004 and she started coming to the Triumph Owners Club meetings with me. In September 2017, Jackie received the devastating news that her cancer had returned and it was terminal this time.
"Jackie didn't want to know how much time she had left to live, but she did want to live it the best way she could, enjoying every moment, making memories with her lovely family and friends. She attended her last Triumph Owners event in July 2018 and then sadly passed away on 4th August.
"The staff at Clatterbridge were very kind to Jackie, her family and me during her last few weeks, allowing the family to live at the centre and making us as comfortable as possible in the circumstances."