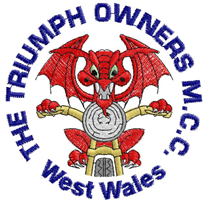 Details about the West Wales branch
Colours: Red Dragon/Gold Triumph/green i'
Contact: Joanna Legg, Chair 07947199367
Email the Branch:
Information
https://www.facebook.com/groups/167310288167/
View our Facebook group tomcc West Wales 🏴󠁧󠁢󠁷󠁬󠁳
Email address:- tomccww@gmail.com
We ride Triumphs both Meriden and Hinckley. Old and young. Ride together and have a good time. Chat and sup. Biking and banter.
This is our 15th year. We formed in 2009.
We have had Autumn Coach trips, picking up all along the M4 to The Norton Factory, Sammy Miller Museum and The Hinckley Factory.
We cover four large counties; Pembrokeshire, Carmarthenshire, Ceredigion, Swansea and Powys.
We help and support Blood Bikes Wales and Welsh Air Ambulance.
We meet up in three different places per month, always on a Tuesday evening from 7.30pm
We have our Branch AGM every Autumn.
Christmas Dinner every December.
We attend bike shows and other Branch Rallies throughout the year
We normally have a TOMCCWW branch Rally on the second weekend May 2024 at Aberaeron RFC. This will be in August 2024.
We go for ride outs most Saturdays and Sundays in the summer, meeting up at bike friendly cafes for breakfast, usually at 10.00am, leaving at 11.00am, then we ride. Usually stopping for lunch, chips, ice creams or a cuppa and cake on the way around. A few hours riding then we split up and ride home. Sometimes we have a speaker at an evening meeting.
We do usually organise a TOMCCWW branch rally every 3rd weekend of May at Aberaeron Rugby Club. All bikes welcome. We have two ride outs on the Saturday one short and one longer. We have a live band on the Saturday evening. An unusual bike quiz and some times Fireworks and the Karaoke.
Location
Contact Joanna, Chair on tomccww@gmail.com - Meets: 1st Tues. each month from 6.30pm at The Station House, Whitland
Also meets at: Swansea, Whitland - Always on Tuesdays, from 6.30pm
Events
We meet on the 1st Tuesday of the Month at The Station House, Whitland, SA33 0AP from 6.30pm. We cover 5 counties, so choose a different area for the second monthly meeting. We will be having a Meeting in the Swansea area every 6 weeks or so. TBC by email to members and on Triumph events page, for members visiting from other Branches.
2023
May
WEST WALES ANNUAL RALLY
Annual rally at Aberaeron RFC, Ceridigion. Just turn up, no tickets! Saturday 13th May out at 10.00am magical mystery tour, reservoirs, mountains, twisties... possibly second shorter distance to The Museum of Internal Fire. Morning coffee and lunch out. Stunning evenibg band - Junior Hacksaw. Bonfire, nice loos and showers. Saturday and Sunday cooked breakfasts. Hot evening meals.
June
Museum of Land Speed at Pendine Sands, Wales, SA33 4NY
The Museum of Land Speed at Pendine Sands, Carmarthenshire, SA33 4NY is now open with a new modern state of the Art building.
Ride Out to Mystry Tour
From: Mueseum of Land Speed, Vintage Hot Rods, Pendine
Click here for more details
Towy Vintage Club Annual Show
We are meeting on Saturdy 24th June at The Showground, Pontagothi, SA32 7 NG. On the A40 between Carmarthen and Llandeilo. The weather is not looking too good for Sunday.
July
Butchers Arms, Bike Meet, Tegryn, Pembs. SA35 0BL
TOMCCWW meeting at Butchers Arms, Tegryn, Pembrokeshire, SA35 0BL from 6.00pm onwards. Fish/Chip van 6.00pm to 8.00pm.
August
TOMCCWW MEET 18.30
Meeting up at The Station House, Whitland SA34 0AP from 6.30pm. Excellent food served until 8.00pm
Ride Out to Mystery Tour - weather direction dependant.
From: Caffi'r Sgwar
Click here for more details
Ride Out to St. Davids
From: Black Lion Royal Hotel,
Click here for more details
Ride Out to Tonfanau Races
From: Nisa Stores Cafe
Click here for more details
September
Ride Out to Amman Valley, Fast Track races
From: Hagan's Cafe
Click here for more details
Ride Out to possibly... The Great Orme, Llandudno
From: Caban Cafe, SA33 4NY
Click here for more details
Ride Out to The Old Point House/Cafe Mor, Angle
From: Copett Hall Car Park Saundersfoot
Click here for more details
Ride Out to M&P Direct, Penllergaer, Swansea
From: Co-op car park Lampeter
Click here for more details
October
MOTO CROSS, DREDGERS LAUGHARNE
Moto X at Pendine Sands. Free to view. Starts 8.30am. Lots of places to sit and watch. Very entertaining. We will be meeting at The Beach Hotel at mid day on Sunday. May go for a afternoon ride around South Pembs. Back to Alan and Joanna's for an afternoon cuppa.
Ride Out to Llanwrtyd, Elan Valley Visitors Centre for Lunch.
From: "Winter Drawers On" Owls Nest Cafe,
Click here for more details
November
TOMCCWW MEET AT BUCK INN, 2PONTILLW,32 SWANSEA
Evening meeting from 6.00pm eating at 6.30pm room reserved for TOMCCWW food available
Click here for more details
December
Ride Out to Caffi'r Sgwar Cafe
From: "Adventure before Dementia" Tesco, Carmarthen
Click here for more details
Christmas Dinner
At Rose and Crown, Carmarthen. 7.30pm for 8.00pm Accommodation available. All TOMCCWW members have a £10.00 discount on Xmas menu..
BOXING DAY BIKE MEET
Meeting at 11.00am at The Savoy Country Inn, St. Clears, Carmarthenshire, SA33 4JP. On the A477. After a ride out. For banter and beer. Bikers brunch. Soup/roll. Bacon Bap. Burger. ALL BIKES WELCOME
Ride Out to The Savoy Coutry Inn,
From: The Station House, leaving at 10.15am
Click here for more details
2024
August
WEST WALES BRANCH RALLY
ABERAERON RFC- BY THE SEA - IN WONDERFUL WALES Saturday stunning ride outs. One long/Twistie and one short/Pretty. Good welsh grub.The very best band... we've had them only once before. Nice loos and showers. Karoke, Bonfire and fireworks. Roast Dragon. Technical Bike Quiz, in Welsh.
Committee
Joanna Legg - Chair - Carmarthenshire
Ian Bain - Treasurer - Swansea
Andy Schofield - Secretary - Tenby
Andy Dunn - Rides Captain - Aberaeron
Chairman

Joanna Legg, Laugharne

Member of TOMCC since 1977. Started Medway Branch in 1979. Started West Wales Branch in 2009. TR6R stolen in 1999, after owned for 23 years. Current bike Thruxton Bonnie 900

---

Rides Captain

Andy Dunn - Aberaeron area

Triumph Bonneville Scrambler 865, Triumph 1200 Scrambler

---

Secretary

Andy Schofield - Tenby area

Triumph America 865

---

Treasurer

Ian Bain - Swansea area

Rickman Metisse Triumph, 650 Triumph Tiger

---