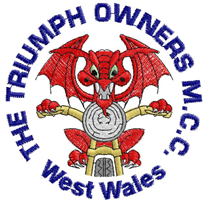 Details about the West Wales branch
Colours: Red Dragon/White/Green/Gold
Contact: Joanna Legg, Chair 07947199367
Email the Branch:
Information
We ride Triumphs both Meriden and Hinckley. Old and young. Ride together and have a good time. Chat and sup.
This is our 11th year.
We have had Autumn Coach trips, picking up all along the M4 to The Norton Factory, Sammy Miller Museum and The Hinckley Factory.
We cover large 4 counties. Pembrokeshire, Carmarthenshire, Ceredigion and Swansea
We help support Blood Bikes Wales and Welsh Air Ambulance.
We meet up in three different places per month, always on a Tuesday evening from 7.30pm
We have our Branch AGM every April
Christmas Dinner every December.
We attend bike shows and other Branch Rallies throughout the year
This Year, 2020
15/17 West Wales Annual Rally at Aberaeron Rugby Club
7th June - Scolton manor
4/5 July - Llandovery Bike Weekend
17/19 July Beacons Rally, Baskerville Hall, Offa's Dyke
1/2 August - Llangollen Bike Fest, Llangollen
We go for ride outs most sunny Sundays in the summer, meeting up at a bike friendly cafe for breakfast, usually at 10.00am, leaving at 11.00am, then we ride. Usually stopping for lunch, chips, ice creams or a cuppa and cake on the way around. A few hours riding then we split up and ride home.
We organise a club rally every 3rd weekend of May at Aberaeron Rugby Club. All bikes welcome. We have two ride outs on the Saturday one short and one longer. We have a live band on the Saturday evening. An unusual bike quiz and some times Karaoke.
Location
The Station House, Station Road, Whitland, Pembrokeshire, SA34 0AP - Meets: 1st Tuesday of each month from 7.30pm
Also meets at: The Coracle Tavern,1 Cambrian Place, Carmarthen SA31 1QG AND at Morriston RFC, SA6 6JS, on last Tues of Month - 3rd Tuesday of each month from 7.30pm
Committee
Joanna Legg - Chair - Carmarthenshire
Nigel Hill - Secretary - Swansea
Chairman

Joanna Legg, Laugharne

Member of TOMCC since 1977. Started Medway Branch in 1979. Started West Wales Branch in 2009. TR6R stolen in 1999, after owned for 23 years. Current bike Thruxton Bonnie 900

---

Treasurer

Ian Bain

Rickman Triumph

---

Vice Chairman

Alun Yeend

T130, very unusual. 3TA Bathtub

---