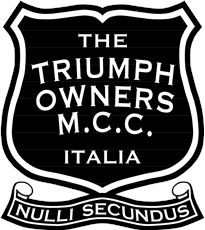 Details about the TOMCC Italia branch
Email the Branch:
Information
TOMCC Italia è la prima branch fondata in Italia. Offriamo ai proprietari italiani di motociclette Triumph l'opportunità di diventare membri di questa storica organizzazione e di partecipare ai suoi eventi, sia in Italia che altrove.

TOMCC Italia is the first Italian branch of the club, and we are very proud of it. Get in touch or, even better, join us!
Organizziamo eventi e giri in moto, sia giornalieri che di più giorni, serate in birreria, scambio di informazioni e partecipazioni a moto raduni, nonchè l'accesso a convenzioni con concessionari, rivenditori, officine e garage.